Working with With Achilles Tendinitis Pains
Overview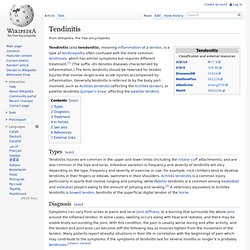 Achilles tendinitis is an uncomfortable condition where a person?s large tendon in the back of their ankle becomes irritated and inflamed. It is a very common type of injury, most often seen in recreational athletes. This makes sense because recreational athletes still play hard at their sports, but don?t have the full knowledge or training that comes with being a professional to prevent injuries. Achilles tendon pain is not something to be taken lightly, so if you are aware of your own, you should definitely seek some medical advice.
Causes
Poorly conditioned athletes are at the highest risk for developing Achilles tendonitis, also sometimes called Achilles tendinitis. Participating in activities that involve sudden stops and starts and repetitive jumping (e.g., basketball, tennis, dancing) increases the risk for the condition. It often develops following sudden changes in activity level, training on poor surfaces, or wearing inappropriate footwear. Achilles tendonitis may be caused by a single incident of overstressing the tendon, or it may result from a series of stresses that produce small tears over time (overuse). Patients who develop arthritis in the heel have an increased risk for developing Achilles tendonitis. This occurs more often in people who middle aged and older. The condition also may develop in people who exercise infrequently and in those who are just beginning an exercise program, because inactive muscles and tendons have little flexibility because of inactivity. It is important for people who are just starting to exercise to stretch properly, start slowly, and increase gradually. In some cases, a congenital (i.e., present at birth) condition causes Achilles tendonitis. Typically, this is due to abnormal rotation of the foot and leg (pronation), which causes the arch of the foot to flatten and the leg to twist more than normal.
Symptoms
The pain associated with Achilles tendonitis can come on gradually or be caused by some type of leg or foot trauma. The pain can be a shooting, burning, or a dull ache. You can experience the pain at either the insertion point on the back of the heel or upwards on the Achilles tendon within a few inches. Swelling is also common along the area with the pain. The onset of discomfort at the insertion can cause a bump to occur called a Haglund's deformities or Pump bump. This can be inflammation in the bursa sac that surrounds the insertion of the Achilles tendon, scar tissue from continuous tares of the tendon, or even some calcium buildup. In this situation the wearing of closed back shoes could irritate the bump. In the event of a rupture, which is rare, the foot will not be able to go through the final stage of push off causing instability. Finally, you may experience discomfort, even cramping in the calf muscle.
Diagnosis
If you think you might have Achilles tendonitis, check in with your doctor before it gets any worse. Your doc will ask about the activities you've been doing and will examine your leg, foot, ankle, and knee for range of motion. If your pain is more severe, the doctor may also make sure you haven't ruptured (torn) your Achilles tendon. To check this, the doc might have you lie face down and bend your knee while he or she presses on your calf muscles to see if your foot flexes. Any flexing of the foot means the tendon is at least partly intact. It's possible that the doctor might also order an X-ray or MRI scan of your foot and leg to check for fractures, partial tears of the tendon, or signs of a condition that might get worse. Foot and ankle pain also might be a sign of other overuse injuries that can cause foot and heel pain, like plantar fasciitis and Sever's disease. If you also have any problems like these, they also need to be treated.
Nonsurgical Treatment
NSAIDS like ibuprofen are often prescribed to help manage the pain and inflammation. Steroids are often recommended when patients do not respond to NSAID treatment. They are often most effective when injected directly into the inflamed and swollen area. Physiotherapy is a great way to stretch and strengthen the Achilles tendon. A good physical therapist will also teach the patient techniques which give better foot support during exercise (taping, wrapping, etc?). Orthotics, assistive devices and insoles can be used to cushion and cradle the arch of the foot during the healing process. Shock Wave Therapy. This is the newest form of treatment and uses concentrated sound waves to stimulate healing in the affected area. This form of treatment is reserved for heel pain that is unresponsive to other forms of treatment.
Surgical Treatment
Surgery can be done to remove hardened fibrous tissue and repair any small tendon tears as a result of repetitive use injuries. This approach can also be used to help prevent an Achilles tendon rupture. If your Achilles tendon has already ruptured or torn, Achilles tendon surgery can be used to reattach the ends of the torn tendon. This approach is more thorough and definitive compared to non surgical treatment options discussed above. Surgical reattachment of the tendon also minimizes the change of re-rupturing the Achilles tendon.
Prevention
Achilles tendinitis cannot always be prevented but the following tips will help you reduce your risk. If you are new to a sport, gradually ramp up your activity level to your desired intensity and duration. If you experience pain while exercising, stop. Avoid strenuous activity that puts excessive stress on your Achilles tendon. If you have a demanding workout planned, warm up slowly and thoroughly. Always exercise in shoes that are in good condition and appropriate for your activity or sport. Be sure to stretch your calf muscles and Achilles tendon before and after working out. If you suffer from Achilles tendinitis make sure you treat it properly and promptly. If self-care techniques don?t work, don?t delay. Book a consultation with a foot care expert or you may find yourself sidelined from your favourite sports and activities.